The tragedy of the Syrian war caused the celebrated cooking traditions of this Middle Eastern food nation to spread across Europe. And in Berlin, a city famous for its Middle Eastern and Levantine cuisine, Syrian food didn't really play a role until the first wave of Syrian refugee-opened restaurants started appearing around 2015.
"

"The celebrated cooking traditions of this Middle Eastern food nation have spread across Europe."
My own first encounter with this cuisine came in the shape of a Syrian-style shawarma served by shops such as Aldimashqi, Shaam and Alfaisal in Neukölln and Wedding. Shawarma wasn't new to me, the Lebanese community had been serving the dish for decades but the Syrian version with its intricately spiced chicken, uncanny amount of garlic toum and attention to detail, really blew my mind. The same applied to Syrian-style baklava at Konditorei Damaskus where every piece of heavenly flaky cheese knafeh made my realise how I would never be able to eat mediocre baklava again. But my proper graduation into Syrian cuisine was when I first ate the food of Malakeh Jazmati, the greatest ambassador of Syrian food in Berlin.
"

"My proper graduation into Syrian cuisine was when I first ate the food of Malakeh Jazmati, the greatest ambassador of Syrian food in Berlin."
Malakeh Jazmati's formal lack of any kind of culinary education never stopped her from cooking up a Syrian storm. She came to Berlin in 2015 but by that point she had already been living in Jordanian exile for a few years, making a name for herself with her own TV food show called Maliket al-Tabkh ("Queen of Cooking") on Orient TV. After relocating to Berlin, her and her husband Mohammed started a Syrian catering business quickly becoming famous to the point where they got to serve German Chancellor, Angela Merkel, Fattet Makdous at a reception. They were repeatedly were told to open a restaurant, so eventually they did.
Step into Malakeh the restaurant and you will be greeted by the massive portraits of Syrian actors, activists and artists. They are Malakeh's heroes and role models and symbols of a lost home for her and her husband. So to is the cosy back corner of the restaurant that Malakeh herself has decorated in the style of a traditional Syrian living room, complete with a beautiful crochet wall ornament.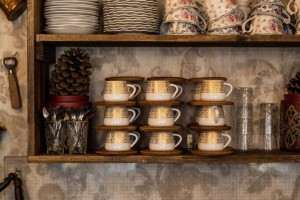 Malakeh is from Damascus and while a lot of the food at her restaurant is based on the cuisine of the Syrian capital, the full menu is really an homage to Syrian cuisine as a whole (especially Aleppo-style) alongside some of Malakeh's own creations. The foods and ingredients of her new home Berlin have inspired her to conceive dishes that draw inspiration from all kitchens she encountered here. Just like the Shish Belfakhar, an intricate mixture of grilled chicken with Aleppo peppers, spices and fries baked in a flatbread-covered tray. At the table, the dough cover is cut open and the subsequent release of steam from the chicken and the peppers will fill the room with delight. Classic dishes include Jebet Altajer or 'trader's pockets': Sensational deep-fried pita bread filled with chickpeas, peppers, cheese, corn, mushrooms and sesame sauce.
"

"..the food at her restaurant is an homage to Syrian cuisine as a whole"
Do not make the mistake of leaving Malakeh's without eating the Fattet Makdous, the sublime Damaskus dish which for Malakeh symbolises Syrian cuisine like nothing else. Small eggplants, fried whole, to soft and buttery perfection, are served on a bed of ghee-fried pieces of flat bread, tomato sauce and yoghurt. A marvellous dish that gets its kick from the marvellous combination fattiness and yoghurt. Yoghurt also plays a pivotal role in her Kibbeh, where the meat-filled bulgur quenelles sit in a fantastic, warm yoghurt sauce that's garnished with a generous serving of fresh estragon. Also make sure to always ask for the daily specials, these are usually the most interesting foods and they change on a weekly and sometimes daily basis. Also very worthwhile is the Syrian-style brunch on Saturdays which features a whole different menu.
"

"A marvellous and rich dish that's gets its kick from the unbelievable combination of ghee, tomato sauce, yoghurt and fried bread."
The reason why Malakeh is a truly outstanding restaurant comes down to the simple fact that we here have an outstanding personality cooking proper Syrian food with great ingredients. Malakeh sources all her ingredients with meticulous care, often travelling to Istanbul for the things she can't buy here and offering a kind cooking that's very rare to find in Berlin as a result. The "Queen of Cooking" has found a home in Berlin and is showcasing how real food from Syria can taste and why this great nation always has been celebrated by its neighbours for its culinary traditions. A gem of a restaurant, that's what Malakeh is, and we're lucky to have it.