Berlin Food Stories started as a rudimentary Wordpress blog in 2012 where I anonymously reviewed restaurants - with absolutely no real plan on ever making this my day job. In 2015, the blog then matured into a new and more advanced website (that hopefully you've seen and used before!) after I finally took the leap to take a break from the utterly soul-draining world of my work in tech. I felt it was time to try to truly make something out of the traction I was seeing on the project. Around the same time, I also started dipping my toes into the sea that was social media - especially Instagram - and it quickly developed into the main way I interacted with readers and the food community. It's no coincidence that, around the world, the platform was becoming the number one way laypeople and chefs were seeking and finding inspiration for and interest in restaurants, as well as driving the food renaissance at large.
The result of this seismic shift towards the increased focus on social media led to the inevitable decline of website activity and longer-form articles - there just weren't enough hours in the day to properly tend to all of it. So, in light of managing scarce resources, the BFS website was passed into a slumber sometime during 2019, facing the choice between making videos on Instagram that reached tens of thousands eyeballs and writing long reviews on a website that reached a few hundred only - for me, it was an easy choice. 
"

Berlin Food Stories was created to be the very best source for information on where to eat in Berlin...
But, somewhere between the last pandemic (what wave are we in now?) and Insta Reel Number #3342, I started to ask myself whether the sole focus on social media might've led BFS astray from its initial path of purpose. Berlin Food Stories was created to be the very best source for information on where to eat in Berlin, an online encyclopedia for mastering the Berlin restaurant jungle. The deeper I dove into social media, I realized that social media alone wasn't solving the problem well enough. Yes, videos are great for inspiring you (in the moment) to visit a restaurant. Also, in particular, long-form videos offer a unique way to explain and visualize food, restaurants, and the characters behind them. But, the savvy eater will always desire a searchable archive where all relevant restaurant information is gathered and codified, with an easy-to-use map and search function that filters through all the bullshit and just delivers fast and reliable answers to restaurant queries, day and night, 24/7, three-sixty-five. 
The new BerlinFoodStories.com is just that. 
The new website features a hand built and selected database with over 300 restaurants, all food spots that we can 100% recommend for a meal - and we stand behind our recommendations. And, if there's a crucial piece of data within that recommendation, or, a single dish that you absolutely MUST try while the rest of the menu might fall flat, we will inform you about it. 
Here's how we've built the system; every restaurant has its own microsite, we call them their "PLACE" pages, where you will find all the most important info about the location (except for opening times, we're not Google Maps). What makes the new website really special though, are the new possibilities to search for and organically discover new restaurants and special meals. 
There are two ways you can go about that; you can either search for a restaurant or cuisine on the general site Search and it will spit out every written piece on the site containing that specific keyword. Very helpful. Praktisch, even. 
But, even cooler (we think!) is the brand new Map Search. We've categorized every restaurant in our database according to their most important foods, drinks, features, occasions, dietary requirements, time slots etcetera via the use of deep filtering. What you now have at your fingertips is a unique database that allows you to search and combine different keywords to find the perfect restaurant for your specific needs at a particular moment. Looking for a child-friendly pizza place in Prenzlauer Berg that's open for lunch and accepts big groups? No problem. Or, maybe you need a nice place for dinner with exceptional service that's perfect for showing your parents a great time (and where they hopefully pick up the bill). We got you covered, no worries. We'll let you know when we find the true Berlin unicorn, though - a dog-friendly restaurant serving natural wine that accepts credit cards with an all-vegan menu - you'll be sure to hear about it first, here, on BerlinFoodStories.com.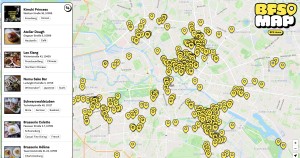 ANOTHER hugely important announcement is the expansion of the Berlin Food Stories crew. The times of solo-riding for me are finally coming to an end; BFS is officially moving away from being a one-man show, and we're proud to add a whole mess of new characters. Now, I haven't been running Berlin Food Stories by myself for the last few years, but the existing crew members haven't been involved in the content you see (think, more making sure my bills are paid on time and I'm all good with the Zollamt). All past articles on the old website, all posts on social media and all opinions on food have been penned by yours truly. But, for quite a while now, it has been clear to me that this has to change. So I did. 
Just like social media doesn't suffice as the restaurant platform I want BFS to be, it can also not just be me, Per, the big white Swedish guy, as the face of the platform that tells you where to eat in this vastly multi-dimensional, ever-changing city. This is exactly why you'll see a bunch of new characters popping up on the platform over the next months (check out our open positions, we're always looking for people with exceptionally strong opinions on food!). Stay tuned - you will start to see many new writers on the website - we're proud and confident to say that we have managed to gather some of the brightest food minds in Berlin. We're starting slowly, but rest assured, they will regularly be diving deep into food topics during our quests, often connected to their specific expertises. 
In addition to adding some superstars to our writing team, you'll see other characters on social media where they will join me in the  never-ending pursuit to make the best restaurant content on the continent. One specific character you should be especially aware of is Nathan Gilmour, the new General Manager and Editor-in-Chief of Berlin Food Stories. He brings in a boatload of incredible gastronomic expertise and great vibes and was, among other things, one of the main reasons this very website was finally able to see the light of day.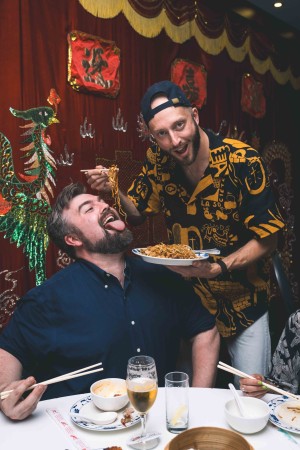 We are all very excited to embark on this journey with you, it might have taken a bit longer than planned, but once in a while it's also OK to accept that good things do sometimes take a bit to bake. BFS will continue to operate according to our core principle of independent and unpaid restaurant recommendations, now with higher ambitions than ever. Your support means everything to this project, so please make sure to share and engage with our content, and also to support us financially in order for us to sustain this project and especially hire more people. Become a member of our Premium community today, which includes access to our BFS Discord and Member Events, and make sure to buy a BFS Restaurant Voucher the next time you're looking for a gift.
So please, take this website for a spin and let us know what you think! We are grateful for any feedback you have, please use our contact forms to send us your thoughts. We're also counting on you (yes, you!) to report any errors on our restaurant info, which can also be done via the form. 
Thanks for reading and being a part of the best food community out there!
Yours truly,
Per   
P.S. 
Give your support to independent restaurants in Berlin! For example by purchasing a BFS Voucher, which allows the hungry holder to dine at one of our favourite restaurants—whenever you want. Or join Berlin's best food community on the BFS Discord where you get access to all restaurant tips first-hand plus invites to very cool member events and dinners (join via our Patreon!)